McKeyla McAlister is the main charcter of the series. McKeyla is the leader and a spy ( formerly ). Mckeyla is the main character in the Netflix original series project mc2 and she also the teenage secret agent at high school.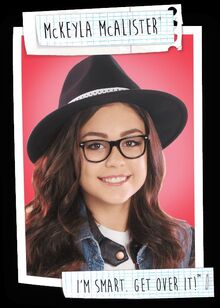 Appearance Mckeyla mccalister has pale skin, has brown eyes and has long curly brown hair but sometimes flat and in season 3 mckeyla had purple hair.
Hobbies going out on mission,going out on a date and hanging out with her friends and going to her friend adrienne`s cafe.
Favorite color purple
Favorite food frozen yogurts with lots of toppings
favorite subject science
Catchphrases I`m smart get over it
Ad blocker interference detected!
Wikia is a free-to-use site that makes money from advertising. We have a modified experience for viewers using ad blockers

Wikia is not accessible if you've made further modifications. Remove the custom ad blocker rule(s) and the page will load as expected.